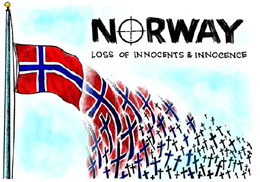 by Chris Banescu –
The mass murderer in Norway, Anders Breivik, was just "punished" with a whopping 21 years of jail time for the cold-blooded and indiscriminate massacre of 77 innocent men, women, and children. That's a mere 3.27 months of jail time for each murdered victim. Those European socialists sure know how to "protect" their citizens!
Adding insult to injury and outrage to injustice, in his final public statements, Breivik failed to show any remorse for his atrocious massacre of so many defenseless souls. Safe in the knowledge that he will never have to face the death penalty (Norway abolished it a while ago), the sociopath brazenly "apologized" for not killing even more people and achieving an even higher death toll in his murderous campaign.
OSLO – A court on Friday sentenced Anders Behring Breivik, the Norwegian extremist who admitted killing 77 people, to at least 21 years in prison after ruling that he was sane when he carried out his country's worst peacetime atrocity. The sentence was the most severe permitted under Norwegian law, but it can be extended at a later date if he is still deemed to be a danger to society.

…

His 10-week trial ended in June. Defense lawyers had sought a prison sentence, arguing that Mr. Breivik was sane when he bombed buildings in downtown Oslo, killing eight people, and then headed to Utoya Island, where he shot 69 people to death at a summer youth camp run by the Labour Party. Prosecutors said that he was mentally ill, that he was not criminally responsible and that he should be hospitalized instead. It was not immediately clear whether prosecutors planned an appeal.
Apparently the Norwegian legal system, notorious for its very lax and accommodating attitude toward all criminals, including violent offenders, values the life of a pathological and unrepentant killer much more than the lives of his victims and all the pain, anguish, and loss of their suffering families. The government of Norway displays sheer and utter contempt for the safety and rights of its law-abiding citizens, while bending over backwards to coddle a monster. In the "enlightened" state of affairs liberals and progressives have created in many Western European democracies, concepts such as "justice", "defense of innocence", and "protection of life" are gradually losing their meaning.
This is yet another reminder of how deep the moral decay and spiritual corruption runs in many socialist countries in Europe. The farther and farther they drift from the solid moral foundation and principles of the Judeo-Christian tradition, the darker and more unjust they become. Remember that next time Obama, the Democrats, or anyone on the left sings the praises of socialism and points to Europe as a role model for America.