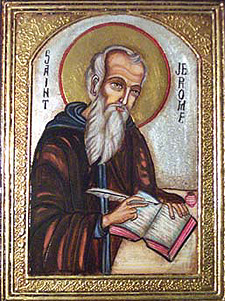 by Chris Banescu –
Sin always troubles our soul and chases away our inner peace. Saint Jerome cautions us that the evil one is a master at snaring and troubling us with many kinds of deceptions. When we give in to these distractions and "begin to play with sin", we fall from a state of grace and our soul is in trouble. We are no longer at peace. We become even more vulnerable to the devil and easy prey to his snares.
In our daily battle to stay close to God's grace and find peace, we must not give in to sin, even the smallest ones which pave the way for greater ones. We must continually strive to embrace God's truth and reject the lies and deceptions from the evil one.
Even if we succumb to temptation and fall, we should not despair and we must not persist in our sinful conduct. Often Satan's greatest lie is to convince us that we are beyond redemption and there is no hope in asking for forgiveness from the Lord. We must quickly repent, reject the sin, return to Christ, and seek the grace of the Holy Spirit. This is the only way to stay sane and peaceful in the darkness and corruption of "this world."
"Be anxious for nothing, but in everything by prayer and supplication, with thanksgiving, let your requests be made known to God; and the peace of God, which surpasses all understanding, will guard your hearts and minds through Christ Jesus." (Philippians 4:6-7)

The Homilies of Saint Jerome, Volume 1 (1–59 on the Psalms)
Homily 20 – On Psalm 90 (91)
…
You see, then, that the devil is the hunter, eager to lure our souls unto perdition. The devil is master of many snares, deceptions of all kinds. Avarice is one of his pitfalls, detraction is his noose, fornication is his bait. 'And from the destroying word.' (Psalm 90 (91).3)
As long as we are in the state of grace, our soul is at peace; but once we begin to play with sin, then our soul is in trouble and is like a boat tossed about by the waves.